DIY 101: What core tools do you need in your home?
How many times have you asked your neighbor to borrow a tool you didn't have for a quick DIY project? Have you ever asked yourself why you don't even own a hammer? Even though you might not need a tool belt, you should own these core sets of tools to make yourself feel more confident about independently fixing a few things around your house. Let's take a look at what these may be… for those of you who do have some or all of these tools – give yourself a pat on the back!
Drill & Drill Bits
A multipurpose, battery-operated drill can be useful for various projects. This tool goes hand in hand with Drill Bits that come in different sizes and shapes, depending on what's needed for your project.
Adjustable Crescent Wrench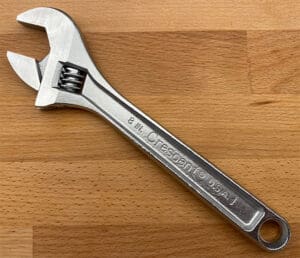 Adjustable is the key word here. You probably won't need a full set of wrenches with this, as it will accommodate different sized nuts and bolts. This tool is handy for everything from plumbing fittings to installing lag bolts, which makes it a "must have" for any toolbox.
Hammer
This should be an obvious one! Next to a screwdriver, your hammer is probably the most reached-for item in any given toolbox. The rule of thumb for this one is the size of the hammer corresponds to the size of the nail.
Extension Cord
This one isn't necessarily a tool, but it sure comes in handy for an outdoor gathering! Outdoor power cords are made from tougher materials that can withstand temperature changes, moisture, and chemicals.
Hacksaw
This tool has lots of multi-use functions. It can cut plastic, metal pipes, bolts, and wood… it can do even more, but you probably won't be using it for much else on your own!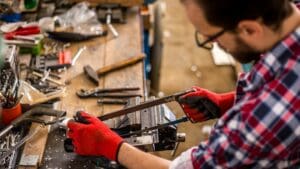 Assortment of Nails & Screws
We are almost certain you have some of these lying around in your drawers. Something helpful to your future self would be to get a box with different compartments and organize them all. Good luck!
Tape Measure
A quality retractable tape measure is worth the few extra dollars. These are a must when putting up pictures or artwork and can also be helpful when hanging curtains. To test and see if the tape measure is high-quality, extend it out 6-7 feet and see if the tape will hold itself up without kinking and bending down to the floor. The further out it will extend before "popping" and falling to the floor, the higher the quality of the tape measure.
Utility Knife
This can be very useful when you have hard plastic wrapped around anything – we've all been there while trying to open battery packages! They're also great for breaking down boxes. Other uses for a good utility knife include removing caulk and scoring VLP flooring for precise cuts.
Step Stool
Again, not really a tool, but necessary nonetheless. If you are "vertically challenged" … a stool is a saving grace! Time to clean the cobwebs off the fan!
Screwdrivers
Our recommendation would be to get a variety pack that includes a Phillips head and a flathead, most importantly. A Phillips-head screwdriver has a X-shaped head with pointed edges that is designed to fit neatly into the cross slots of a Phillips screw. An advantage of the flathead screwdriver is that it can also double as a prying device when needed.
Scraper or Putty Knife
This can be used for removing stuck on glue, or surfaces that are beginning to peel off. Depending on the size of the knife they can also be used as a paint guide for brushed or sprayed paint. You'll also find this tool handy for any minor drywall work such as patching screw holes or reestablishing chipped corners.
Plunger
Obvious! Enough said.
A Set of Hex Keys
These can also be called Allen wrenches. It's safe to say you know what these are if you've ever taken a crack at putting together pieces of IKEA furniture! You can also use them for fixing bikes and toys.
Safety Gear
Essentials for safety are latex or vinyl gloves (which may be hard to find right now), goggles, and ear protection for loud yard tools. When it comes to gloves, be sure to pay attention to the thickness of the glove material, which is usually displayed on the box in "Mils". The thicker the glove, the longer they will last, especially in tough situations like working on a vehicle or when using solvent-laden paints like spray paint.
Ultimately, if you can't buy all of these right now, start with a few and keep adding on as you go. Have fun being your own handyman or handywoman! And of course, if you need any additional assistance with your home projects, please don't hesitate to give us a call at 833-GET-AVID.