5 Tips for Creating A Home Office That Works
Having a home office can be the ideal solution to separating work from the rest of our daily lives. Yet, building one can seem like a pipe dream if your property is on the small side. The good news is, you don't need a mansion to give yourself the perfect workspace.
Have a Layout



Before you start making any changes, you must plan out what type of home office your space can accommodate. With that in mind, ask yourself what your work will entail and what you will need to fulfill your goals. For instance, you might only need a computer and a desk, but may be required more than that if you plan on meeting clients in your home. To get the most out of your space, measure dimensions of where you want to set up your office and make a layout of it. If you want, you can sketch out your design to help you visualize your options. The right plan can manifest into the foundation of your office, so invest in it!
Budget for Everything
Once you have a plan in place, you can budget around it and make adjustments when necessary. Thankfully, creating an effective budget can be as simple as tracking your monthly earnings and expenses and recording them over a long period of time. Your budget must factor in the investments, big and small, that your office will need. This includes supplies, furniture, a quality Internet connection, and potentially increased energy bills. Still, you don't have to buy new items to furnish your office with, so shop around and search for deals. In the end, you may be just as happy with an older computer or desk as with the premium options.
Consider Help
A crucial step in designing your home office is developing the space that you have. This can involve decluttering and reorganizing your environment in order to reclaim unused real estate. If there is a lot of clutter, dealing with it can become overwhelming and take your mind off the other goals at hand. Fortunately, you can bring on some professional help that will support your efforts to declutter and tidy up, as well as share their experience and give you insights to use in the future.
Adapt Your Storage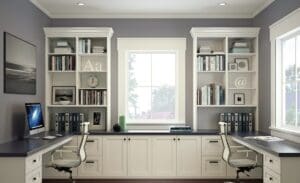 A tight space means needing creative solutions for storage. Storage can be used as attractive decor, or even integrated into furniture. This could allow you to spread the burden across your home by using bed or coffee table storage for extra office supplies. Likewise, you could go vertical by putting in a door bookshelf for added storage and decorative flair. Your filing system doesn't have to rely on traditional cabinets, as they could be turned into an ottoman or vertical wall rack.
Improvise, Improvise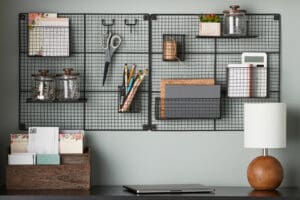 Regardless of the size of your home, you can put together a functional office that works for you. It may be a simple space in a corner, but the right fixtures and furniture can help ensure that it serves its purpose. After all, the basis of any successful office is a desk, and those can come in all shapes and sizes. Similarly, lighting doesn't have to take up any valuable space, as track and recessed lighting can offer useful illumination. This can also alleviate the necessity of large lamps for your place of work.
A home office can restore balance to your home and give you peace of mind. With plenty of preparation, a well planned budget, and creative ideas for storage, you can have the perfect place for productivity. Your office will no longer need to be held back because of limited space, and we are here to help at 833-GET-AVID!