It's time to get our porches, patios, and front door stoops ready for outdoor living! Yea! Wouldn't it be wonderful to have a clean and well-decorated area to enjoy the upcoming spring and  summer!  Now's the time to do little things to an outside space to make it a fabulous outdoor living area! Here are 8 tips to work on now for a great outdoor space you will love spending time in!
1. SCRUB IT UP!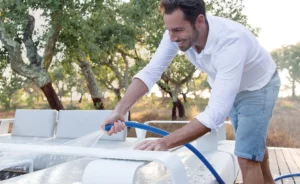 Get out the hose, bucket and cleaner and give your outdoor space a good scrub! Don't forget the ceiling of your porch. Wash the windows around your porch or patio and keep them sparkling! In between annual washings you can use a leaf blower to blow off the dirt and grime from your porch and patio.
Wash down patio furniture and porch rockers. If you need a great cleaning solution for your furniture try 2 TBS of Pinesol in a bucket of warm water. After a good scrub, hose them down. You can also use a leaf blower to dry off wet furniture if you're worried about water spots.
It's also a great time to wash down any umbrellas and outdoor seat cushions too.
2. PAINT IT TO LOOK FRESH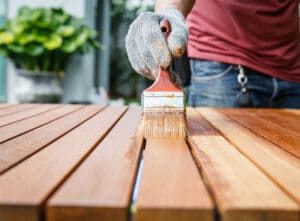 We don't me the porch… that's a huge job. We suggest calling in professionals if your entire porch needs repainting!
We're talking about things like rockers and tables and swings and such. Make sure they are not chipping (unless that's the look you want). It only takes a couple of hours to make a rocker as good as new! Try a fun new color this year!
The time to start painting is not when you want to be rocking and sipping ice tea! So let's do it now!
3. ADD POTTED FLOWERS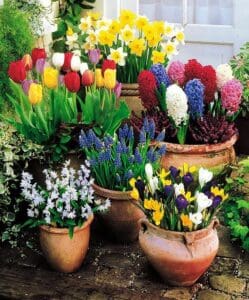 Plants bring life and beauty into your outdoor living space! They create a "buffer" between the natural foliage and the hard lines of a constructed front porch.
The planting process… and it is a process… begins by inspecting your pots, giving them a good scrub and planting them with seasonal flowers and plants. Your local nursery can help you decide what plants to plant now. Summer flowers are a great idea to plant on Mother's Day.
Try having a "theme" each year and plant flowers accordingly. For instance, this year you could do all white flowers and call it "A BLIZZARD IN SUMMER". Now is the time to start thinking about what you will plant in all those outdoor pots! Let's get our hands dirty NOW!
4. ADD A RUG
Nothing defines an outdoor space like a cool rug! And there are so many great rugs and lots of sizes to be found! Start looking now and enjoy the coziness and added color and texture a rug brings to your summer lounge sessions!
5. CREATE A SPECIAL AREA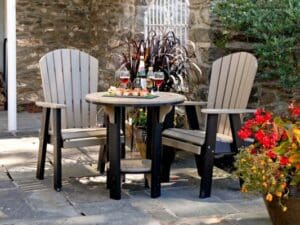 A bistro dining area, a summer reading spot or a nice place to swing and count the fireflies are all examples of fun spaces to create outdoors! Do you like to get up early and read the paper with your cup of coffee? Why not create a little space outdoors to enjoy your morning ritual.  Make it special!
6. USE OUTDOOR CURTAINS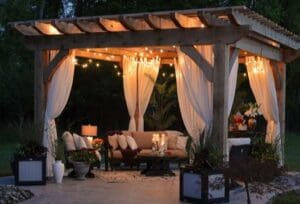 Curtains are a great way to "frame" an outdoor living space and give you the privacy and shade you may need. No wonder they are so popular right now! And they look so beautiful fluttering in the breeze! They're a big and easy way to create WOW factor and drama!
7. DON'T FORGET THE PILLOWS!!!!
A great way to add ambience to your outdoors is by bringing indoor elements outdoors. Pillow are a fabulous way to do that. They are textural and add color. They're also a nice soft place to land!
Make sure the pillows you use are filled with poly-fiber and not feathers. We want pillows that can get wet and dry easily! There are so many great pillows made for the outdoors that are weather and sun resistant. They are your best bet!
If you have lots of outdoor pillows, now is the time to get them out and see if they need to be cleaned up or mended!
8. LIGHT IT UP
Add lanterns, torches and solar lights to your outdoor space. What a wonderful way to add mood lighting! They can be easily moved around unlike wired lighting, and many have a sensor that lights them up from dusk to dawn!
If you start now and do a little at a time, your porch, stoop, patio, and deck will be ready  for you to live outdoors all summer long!
What will you incorporate into your outdoor living space this year? Please share!