If you thought last year was big on renovation trends, you better be prepared for 2022 because it's going to be even bigger! Home renovation spending is expected to go up by 9% during the first quarter of the year and will grow to 17.8% in the second quarter of the year!  What does this mean for you? It's time to start planning! Of course, you will want your home renovation to increase the value of your home and fit your personal aesthetic and lifestyle, so it's a smart idea to start looking for inspiration. In this blog, we will go over the top 5 renovation trends for 2022 so that you can start getting ideas of how you want your home remodel to look!
1.) Colored Kitchen Cabinets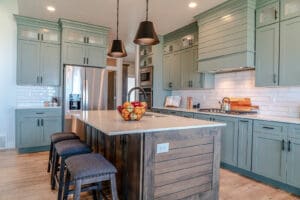 While white cabinets may be a classic, we've seen enough of those! This year, the use of colored kitchen cabinets will be bigger than ever before! As we're spending more time at home, it's becoming more important to give our home a personal touch! Having some of your personality reflected in your kitchen is becoming huge! If you love the color green, don't be afraid to paint those cabinets green! The colors that are especially trending this year include:
Creams
Greens
Taupes
Brownish-pinks
Soft yellows
2.) Converting a Spare Room into an Office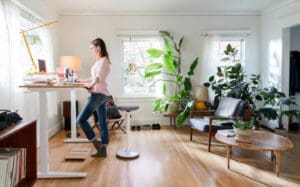 If you work from home, it's safe to assume that you will need to make an office space that inspires you. Whether it be a spare room or the unused garage, 2022 will be a big year where homeowners convert spaces in their homes into home offices.
3.) Bright and Bold Wallpaper Statements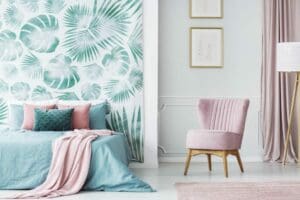 If you're still spicing up your virtual meeting with a beach background, you need to get with the times and create something that's more permanent. This year, homeowners will be experimenting with wallpapers! With the use of geometric shapes, foliage, and contrasting color, wallpapers are no longer seen as tacky or old-fashioned—it's making an upgraded comeback!
4. Cavernous Master Bathrooms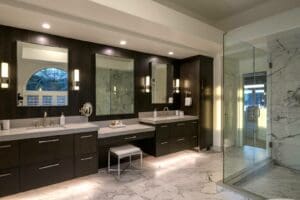 Did you know that the idea of a "master bathroom" is newer than you think? These larger spaces didn't become popular until the 1980's, and now in 2022, they're getting even bigger and better! The walk-in showers, the backlit mirrors, the double vanities, more storage, heated floors, and touchless faucets are starting to feel less like a luxury and more like a necessity.
5.) Black Design Accents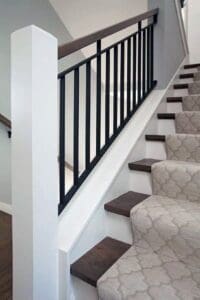 As all-white designs are starting to fade away, the implementation of black accents is making its way into 2022. This year, there will be a more eminent usage of metallic and black accents. They will add depth and provide an edgy feel to any contemporary or minimalistic design.
Get Started!
2022 will be a great year for remodeling your kitchen, bathroom, or entire home! With the comeback or many old trends, 2022 will bring back color and personality into our homes! We hope these top 5 renovation trends for 2022 will help you start planning out how you want to remodel your home this year.
If you're ready to get started with your home remodeling project, give Avid a call at (833) GET-AVID or click here for a free quote