Custom Home Design Trends – 2022 Edition
Picture your dream home, with a custom home design. You probably have certain ideas of what you've always wanted for your home. For some, it's that open kitchen style with a farmhouse sink – perfect for hosting dinner parties with friends and family. For others, it may be a quiet garden with a fire pit, where they can sit and look up to a sky full of stars at night.
The bottom line is this: building a custom home gives you a world of choice and autonomy over your work. In this article, we'll review some of the hottest custom home trends and features for 2022, and what to consider for your own custom home project.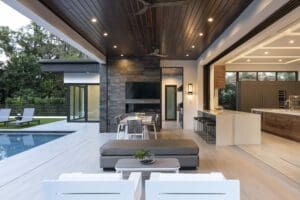 Straightforward Custom Home Design
A custom-built home allows you the freedom to add whatever you want, wherever you want. This is one of the main reasons why custom home builds are so attractive – for many homeowners, it's the opportunity to build your dream house. However, many also realize that unlimited creativity can be too much of a good thing. Homes that end up being a mash-up of different styles and architectural concepts can turn out to be less than the sum of their parts. This is one of the reasons many looking to build opt for a more straightforward, unified design concept.
Of course, you still get to customize your home and make it your own. People building new homes are now taking into account how the property, exterior, and surrounding landscape all work together. If you don't know where to start, our recommendation is always to talk to a custom home builder and ask about other properties they've worked on.
A Perfect Fit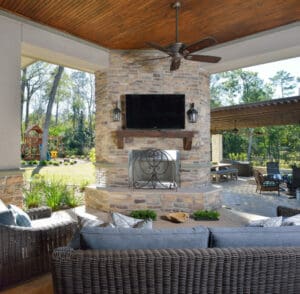 Regardless of where your home is located, you want to be able to enjoy the weather when it's nice out. More and more custom homes are being built to take outdoor spaces into account, instead of treating the surrounding environment as an afterthought. An example of this custom property may have a firepit and sitting area that faces a scenic hill or a bluff. On the other hand, if the owners have green thumbs, space for gardening beds can be made between the main house and guest house.
A Home Built For Your Needs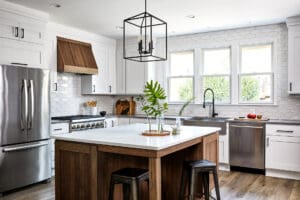 For many people, a custom home is something they hope to live in, enjoy, and maybe even pass down to their children. Since you're given the freedom to make your home just how you want it, consider some of these options:
"Mother-In-Law" Suites: True to their name, these separate spaces are perfect for parents who often come to visit or, later in life, live with you. They also can be great for visiting adult relatives because they contain everything necessary to stay in a comfortable, independent place, without privacy issues.
Designed to save: From the literal ground-up, custom homes can be built with energy-efficiency as a priority. By installing dual-pane windows and providing insulation, your home builder can future-proof your home against rising cooling and heating costs. It can also be helpful to orient your home in such a way that the afternoon sun doesn't hit it straight on, especially if you live in a relatively warmer climate.
Aesthetically pleasing: By having your new custom home painted by a reputable exterior painting company, you'll not only have a great looking property, but you'll also have the ability to select exterior home painting colors. These complement the surround landscape, community, or other design features of your home, such as columns or exposed brick.
A Home That Makes You Happy
Ultimately, the best quality to look for in a custom home is whatever your heart desires. If you focus on that in the planning stages, you're setting yourself up for a lifetime of joy whenever you pull into the driveway of your new home.
As always, don't hesitate to call our team at 833-GET-AVID for any (and all) help on your next custom home project!