Small Balcony or Patio? Check out these big ideas!
Not all of us have the opportunity to buy a luxury home with a huge backyard, but there is an upside to small living. If you live in an apartment, you can turn your balcony or patio into a place where you will love spending your free time while enjoying the fresh air.
Your balcony can turn into a small blooming garden, or you can place a table with a couch on it for reading books in the fresh air. This is a versatile room and what kind of balcony interior design ideas you want to implement in your home depends on you.
Blooming Garden on the Balcony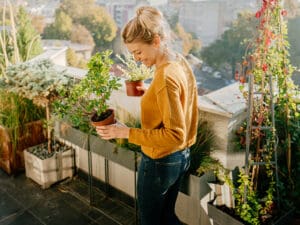 Ornamental plants are very often used to decorate rooms inside the house, but you can also bring them outside. In addition to their appearance, they also allow us to bring wildlife closer to the inside of your home. Many modern office buildings use plants for emotional relief and relaxation. You may not know, but there are entire gardens located on building rooftops.
Try implementing this idea on your balcony. You can install special shelves at different heights along the walls of your balcony. This will allow you to place multiple plants, and give a more free appearance. Utilizing the walls for your plants will give you more free space for furniture or other decor.
Relaxation Balcony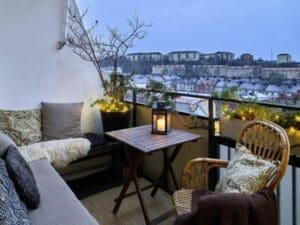 The second common small balcony design is the creation of a lounge. For example, book readers can install a comfortable lounger chair, or even a hammock. A table for working or watching your favorite show is also a popular option. These pieces of furniture are perfect for those who like to watch movies using a laptop.
If you prefer intimate conversation, install a pair of comfortable hanging chairs or hammocks. Outdoor communication in pleasant company will bring a lot of positive emotions.
Be sure to include somewhere to store any electrical items if left outside, as most TV's and computers can't hold up to the elements.
Grilling Balcony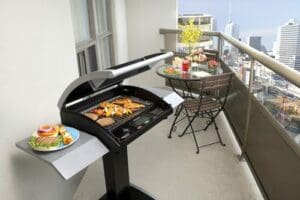 Backyard hangouts arent just for people with big houses. You can create a space for getting together with friends, grilling, or just hanging out. With proper planning, a lot can be created. Installing a small grill area on your patio will create the same great living space as it does with bigger homes.
Be careful when choosing the layout of your table and chairs, creating a convenient space for cooking as well as eating is key. Most importantly, be sure to check and make sure there aren't any local limitations within your city before installing any grill from a balcony.
Romantic Place on the Balcony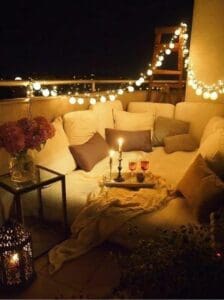 For a young family, a romantic corner of the house can become an irreplaceable place. So why not implement this idea on your balcony? Spending evenings with your loved one is best spent in the fresh summer air.
You can install comfortable decorative chairs and a round glass table. A stand-alone mini-bar with cool drinks and a convenient shelf for glasses can be an excellent addition.
Also, in a romantic setting, proper lighting plays an important role. Lots of small bulbs and candles will help you create the mood you want. Dinner in such a pleasant place will be the perfect end to even the most difficult working day.
Equip a Room for Your Pet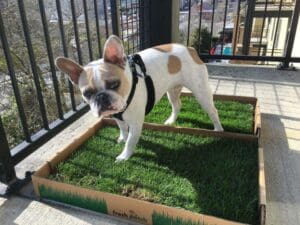 Another great idea for a balcony or patio design might interest dog lovers. On the balcony, you can equip a whole room just for your pet. Select a part of the balcony for an artificial or rolled turf area. This will make your dog feel as comfortable as he is on the lawn. If your pet is small, you can install a fence and even a decorative house. For large dogs, you can always place a fluffy pillow for them to relax comfortably.
This idea will allow you to create a private outdoor space for your dog. Add a basket for their favorite toys and they will happily spend time there free from distractions.
Materials and Furniture for the Balcony
When choosing a material for furniture on a balcony, there are many factors to consider. Do not forget that although this room is part of the apartment, it is still not protected from the elements. High humidity and harsh sun exposure can ruin furniture and decor not specifically made for the outdoors.
Get Started!
2022 will be a great year for remodeling your balcony, deck, or entire home! We hope these balcony & patio renovation renovation trends for 2022 will help you start planning out how you want to remodel your home this year.
If you're ready to get started with your home remodeling project, give Avid a call at (833) GET-AVID or click here for a free quote