Condo water leaks can be a difficult issue to approach depending on where the leak is and where it originated. In this article we will help you determine the right course of action when faced with signs of a condo water leak.
First, determine if the leak could be the responsibility of the association and make the appropriate call.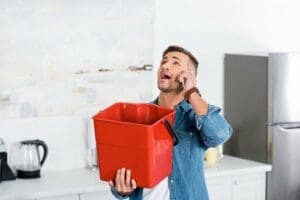 If there is any chance the leak is coming from a common element, or somewhere maintained by the condo association, call your community association management or board of directors immediately. You want to be sure they are aware of the issue and consult with them about whether it could be the responsibility of the condo association. If it is obvious that the condo water leak is not under the condominium association's responsibility, then you will want to contact your homeowners insurance company. Another reason to call the homeowners association board or manager would be if the leak has spread to or affected any common area.
Second, if the source is undetermined and you are unable to see where the leak originates, you'll want to see if the association wants to bring in a vendor or if they suggest you call a vendor personally.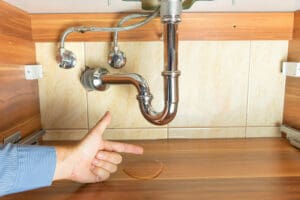 For example, in condo associations the roof is maintained by the association. If you speak with your association manager and you both suspect a roof leak, they may go ahead and call a vendor for the homeowners association to come and inspect. One thing to note is that if the vendor deems the leak was the responsibility of the owner and not the association, you may be charged for the inspection. Alternatively, if you call your own vendor and they identify the leak as coming from common area you'll want to work with the homeowners association to see if they will refund your inspection cost. In either scenario you will want to see if the association wants to send their own vendor out before taking action if possible.
In either case, you'll want to ask your condo association board or management company what their normal protocol is for leaks where the source is still undetermined. Some associations have a standard protocol and some deal with every situation individually.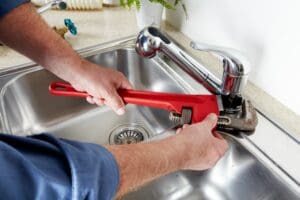 An experienced and qualified maintenance & repair contractor is essential to running a condo association. Avid Contractors has been servicing condo associations for over a decade and can help with preparing for and handling any leak issues within the community. Visit www.AvidContractors.com to learn how we can help prevent and repair water damage!
Projects & Maintenance Made Simple
Does your HOA have an upcoming construction or ongoing maintenance project? Request a proposal today!
Call us at (833) GET-AVID or email us at info@avidcontractors.com